Thunder Bay Drug Strategy
The Thunder Bay Drug Strategy is a coalition of more than 30 partner agencies and members of the lived experience community, who are working to implement a five-pillar drug strategy in Thunder Bay.
The five Pillars are Prevention, Treatment, Enforcement, Harm Reduction, and Housing. Ratified by City Council in September 2011, the Thunder Bay Drug Strategy Implementation Panel has moved forward and selected 21 priority actions that can be realistically achieved over the next three years (2012-2015).
Our membership is a diverse representation of multiple sectors that play an essential role in our comprehensive approach to reducing the harms associated with substance use. Through working together, community organizations involved with the Thunder Bay Drug Strategy have begun to implement programming and services that reflect the strategy's actions.
Our Strategy
Read the interactive Roadmap for Change Strategy: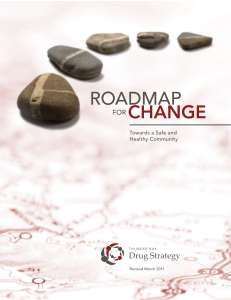 (click image)
Our Priorities & Progress
Read the interactive Travelling the Road to Change 2017 Community Report: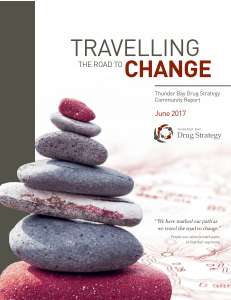 (click image)
| | | |
| --- | --- | --- |
| | 2017 Community Report | Adobe PDF, 12 pages, 1.37 MB |
| | 2016 Community Report | Adobe PDF, 12 pages, 1.33 MB |
| | 2015 Community Report | Adobe PDF, 12 pages, 808 KB |
| | 2014 Community Report | Adobe PDF, 12 pages, 1.49 MB |
| | 2013 Community Report | Adobe PDF, 8 pages, 479 KB |
| | |
| --- | --- |
| Bi-Monthly Newsletter | |
| | | |
| --- | --- | --- |
| Vol 1, Issue 3, | September 2015 | Adobe PDF, 4 pages, 716 KB |
| Vol 1, Issue 2 | May 2015 | Adobe PDF, 4 pages, 562 KB |
| Vol 1, Issue 1 | March 2015 | Adobe PDF, 1 page, 918 KB |