Clean, Green & Beautiful
Celebrating Clean, Green & Beautiful - Nominations for the 2016 CGB Awards Now Open
Thunder Bay's Clean, Green & Beautiful Awards recognize building and renovation projects and their landscapes, as well as outdoor public spaces, that enrich the life of the community through public art, beautification, heritage and environmental greening. Know of a deserving project? Make a nomination.
2016 Clean, Green & Beautiful Award Nomination Form
Adobe PDF, 1 page, 129 KB
2016 - 2017 Green & Beautiful School Grants
Six grants were awarded to secondary schools at the start of 2017 for greening and beautification initiatives at their schools. View the results of their efforts
Clean, Green & Beautiful Thunder Bay - 10 Years in Review
Keeping our City Clean, Green & Beautiful is up to all of us. We invite you to get involved! Together we can improve the physical environment and the quality of life in our City.
A Clean, Green & Beautiful Thunder Bay depends on the pride of residents, businesses, property owners and youth. It also makes good business sense and results in a healthy economy. Clean, green & beautiful cities attract visitors, highly skilled workers and investment, and enable us to live, work and play in well maintained, safe and pleasant surroundings. See how Clean, Green & Beautiful has changed the face of the City over the last 10 years.
Read the Interactive Publication: (click image below)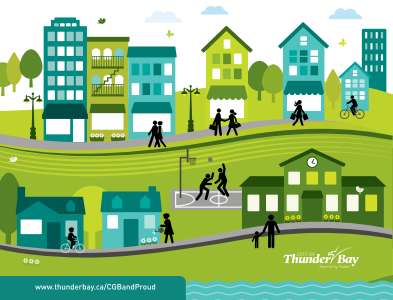 Clean, Green & Beautiful Thunder Bay, 10 Years in Review
Adobe PDF, 44 pages, 9.84 MB
(We appreciate your patience as this large file may take a few minutes to load.)
Clean, Green & Beautiful in Action - What the City is Doing:
urban beautification
Through a partnership between Clean Green and Beautiful and the City's Planning Division, an Urban Design Study was completed in 2012 after considerable work and public consultation. This work improves the quality of our City's built environment by guiding the character of the City streets and informing future Municipal work.