Strategy 2011 - 2014
The Community Safety & Crime Prevention Strategy is the result of much research and consultation, several subsequent meetings, and a preliminary safety audit to examine crime trends in Thunder Bay and the complex factors behind these trends.
The Strategy is a living document that will evolve as the Crime Prevention Council moves forward on each initiative. It uses evidence-based initiatives that will respond to Thunder Bay's unique set of circumstances to reduce and prevent crime in the city, and will contribute to a safer and more welcoming environment.
2011 - 2014 Strategy
Adobe PDF, 12 pages, 470 KB - Revised at November 2013
Read the Interactive Publication: (click image below)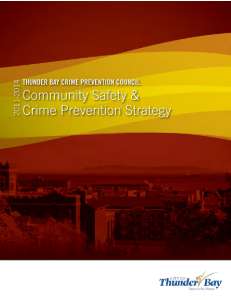 The Implementation Plan sets out the initial path for the Crime Prevention Council and provides a framework to report back on progress. It is flexible enough to accommodate new and important initiatives and will be updated quarterly.
Implementation Plan - November 2011
Adobe PDF, 4 pages, 210KB