Call To Artists
The City of Thunder Bay engages artists and acquires works of art through a variety of established processes, including Calls to Artists. Resources for artists are listed at the bottom of this page.
Email Notification List
Receive news and information about competitions and other public art activities. Visual artists, authors, and filmmakers welcome. Emerging artists and students encouraged. Send an email to: culture@thunderbay.ca
For up-to-date information about the City's Thunder Bay's Call to Artists Competitions follow:
---
OPEN COMPETITIONS
There are currently three open opportunities for artists. Deadlines for all three are May 11th at 4pm.
All three of these opportunities are posted to the City of Thunder Bay bid opportunities page.
Call to artists WWI Commemorative Walk
Call to artists - SL75 Stage Trailer Wrap
Call to artists - SL320 Stage Trailer Wrap
NOTE: Any changes or addenda to these calls will be posted to thunderbay.ca/bids
---
ARTIST RESOURCES
Click on the image below to read the interactive publication - Artist Guidebook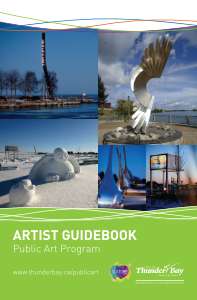 Public art can significantly change an artist's career. The Artist Guidebook was created as a resource for emerging and experienced public artists, and outlines the City's competition and commissioning process from start to finish. Includes perspectives from local artists and covers a variety of topics such as:
How to find competitions
How the City acquires public art
How to provide a submission
The artist contract
Insurance, contractor safety, and WSIB
Working with subcontractors
Contact: (807) 625-2365