Our Green Guide
One Can Make a Difference
The City's Environment Division is proud to produce Our Green Guide, a comprehensive household waste reduction manual. This guide will help you properly dispose of everything from an old computer you no longer need, to leftover paint, and even trophies and clothing the kids have outgrown.
The booklet includes information about the City's landfill and recycling programs, what to do with hazardous wastes, electronic waste, "green" community groups and an A to Z listing of items you may be ready to donate for re-use, sell or determine the safest disposal options.
To enjoy Our Green Guide, download the PDF below, or click on items in the list of recyclables to see how best to dispose of them.
Click the image below to read the interactive publication - Our Green Guide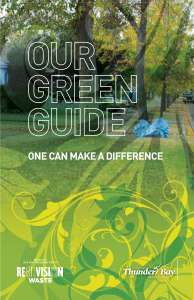 Download Our Green Guide
Adobe PDF, 44 pages, 3.4 MB
Ideas? We want to be up to date, so please let us know if you have suggestions or additions for Our Green Guide. Contact us at 625-2195 or email your suggestion to publicworks@thunderbay.ca.

More Information:
For information about waste diversion programs in the community, call EcoSuperior at 624-2140, or visit the EcoSuperior website at EcoSuperior Environmental Programs.

For information about City of Thunder Bay Infrastructure & Operations programs including waste collection, recycling or hazardous waste, call our Dispatchers at 625-2195.