Solid Waste & Recycling Facility
STANDARD OPERATING HOURS
Monday to Friday: 8 am - 6:30 pm
Saturday: 8 am - 4:30 pm
Closed Sundays and statutory holidays.

For more information call 625-2195 or contact the Waste Management & Recycling Hotline at 623-5756.
LOCATION
The facility entrance is on the west side of Mapleward Road at at 5405 Mapleward Rd., between Oliver Road and John Street Road. view map

Important Reminder! Plan for Unloading, and Secure Your Load!
When planning a visit to the landfill site be sure to load your vehicle with the unloading process in mind. See below for a listing and the locations of the various laydown areas. Always take the time to sufficiently tarp and secure your load before you leave home. Unsecure loads are subject to fines through the Highway Traffic Act.
View a Map of the Solid Waste & Recycling Facility
Visit our MyTBay Minute Online webpage and click Play to view our "Cover & Secure Your Load" video.

Site Procedures
Upon entering the site from Mapleward Road, traffic is split into two streams – private vehicles and commercial vehicles.
Private Vehicle Procedure:
Private vehicles first travel through the Household Recycling, Household Hazardous Waste and E-Waste Depots before arriving at the kiosk to be weighed at the scale. If you are only using the recycling, hazardous waste and e-waste areas, you do not have to cross the scales and there is no charge.
Please visit the Household Hazardous Waste webpage for details on safe disposal of household hazardous waste.
If you have other items, stop at the weigh scale kiosk before proceeding onto the main Landfill Site. In compliance with Provincial Government Regulations, all vehicles coming to the Landfill Site must be weighed in and out. Vehicles are charged on exit based on the weight of the load they leave at the site (see "Tipping Fees" below).
Your next stop is Public Drop-off Area (transfer station area) where there are huge, at-grade bins for metals, tires, bulky items, soil/clean fill, clean wood and garbage. Residential vehicles including cars, vans and half-ton trucks move from bin to bin, depositing their waste into the appropriate area. Attendants are on hand to provide advice; however, customers must separate their loads before leaving home.

If you have leaf & yard waste, you will proceed to the Leaf & Yard Waste Area near the main tipping face, before returning to the weigh scales to be weighed out.
Commercial Vehicle Procedure:
Commercial vehicles, including City waste packers, proceed directly to automated scales upon entering the site. This new traffic flow improves efficiency, reduces wait times for all users, and encourages recycling and proper waste management.
Map and handout on how to use the automated scales for Registered Commercial Vehicles

Adobe PDF, 2 pages, 1.36 KB
Tipping Fees as of April 2018:
Loads weighing up to 130kg: $10
Non-hazardous solid waste over 130kg: $74.71 per tonne
Non-hazardous (approved) contaminated soil - $43.85 (no change from 2016)

Revenues from these fees finance the operation of the site and the costs associated with recycling programs. Correct change is appreciated. You may pay by cash, debit, MasterCard or Visa.
Attention Non-Profit Organizations: You may be eligible to waive the tipping fee.
Before leaving home, please sort your load so that you can easily deposit non-garbage items into the following areas and appropriate bins at the landfill site:
Recycling Depot - paper, cardboard, glass bottles and jars, tetra-paks, milk cartons, aluminum or metal cans, #1 and #2 plastic bottles with necks and twist-off tops
Household Hazardous Waste Depot including electronic waste (e-waste)
Public Drop-off Area Bins: garbage, metal (anything containing metal), scrap tires, bulky items (like mattresses), etc.
Leaf & Yard Waste Area, Clean Wood Waste Area
If recyclable or compostable material is brought in with regular garbage, it must be clearly separated from the garbage on the load.
Metal Laydown in the Public Waste Disposal Area
Any scrap metal can be recycled. Any item with metal in it should be placed in the "Metals" bin. Watch for signs in the Public Waste Disposal Area. Freezers, air conditioners and refrigerators must be tagged "CFC-free" (see below).
Banned - or not? - FAQ
Only garbage generated within City of Thunder Bay boundaries is accepted at the landfill site. Garbage from other localities is banned.
Non-tagged freezers, refrigerators or air conditioners are banned. Freezers, refrigerators and air conditioners must display a tag or notice signed by a certified technician indicating that the fluorocarbons known as CFCs, HCFCs or HFCs have been removed. Once cleared at the kiosk, these items can be left in the METAL bin at the Public Waste Disposal area.
Fluorescent tubes can be recycled at the Landfill Site. Deliver them to Household Hazardous Waste Depot during regular landfill hours.
Empty, dry paint cans can be deposited in the metal laydown area. Partial cans of paint and all other household hazardous waste can be deposited at the Household Hazardous Waste Depot.
Scrap Tires
There is no longer a surcharge for the disposal of scrap tires. A drop-off bin for tires is located in the Public Drop-off Area. Residents can also visit the Ontario Tire Stewardship website at www.rethinktires.ca for more information on tire collection locations.
ASBESTOS
Management of asbestos waste is subject to specific regulations under Ontario's Environmental Protection Act. The Solid Waste & Recycling Facility does not currently accept asbestos. For information on disposal options, please contact R.A. Milne Crushing & Lappe Industrial Landfill at 767-7281.
A Cleaner, Greener Facility
The upgraded City of Thunder Bay Solid Waste & Recycling Facility opened in September 2009. The facility reflects our community's commitment to sustainable and progressive management of waste and recycling. Enhancements include improved traffic flow and new directional signage, a new administration centre, weigh scale kiosk and expanded recycling and household hazardous waste areas.
"Green" components of the new site were developed using the Leadership in Energy & Environmental Design principles. Features such as solar wall cladding, energy-efficient equipment and water-conserving plumbing were used to reduce environmental impact.
Landfill Gas
The City partnered with Thunder Bay Hydro to build a power generating station and heat recovery system that uses the methane gas produced from decaying organic materials as fuel. Thunder Bay Hydro Renewable Power Inc. now operates this plant on land leased from the City at the Mapleward Road Waste & Recycling Facility.
The 3.2 megawatt power generation plant draws methane gas to fuel two engine-driven generator sets and is designed to generate enough electricity to power 2,000 houses.

The project annually converts 263 million cubic feet of methane gas that would have otherwise been released into the environment.
---
Our Green Guide
Read the interactive publication, Our Green Guide, below for tips on reducing waste. It's full of great recycling options.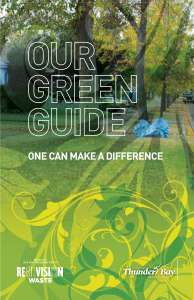 Our Green Guide
Adobe PDF, 44 pages, 3.4 MB