Active Transportation
Thunder Bay's Active Transportation Plan has one main goal: to help make Thunder Bay a great place to walk, bike, and roll.
To do this, we are building cycling lanes, new multi-use trails, active living corridors, and expanding the sidewalk network. We are working with partners to educate citizens about how to share the road safely, how to ride safely, and how to prevent collisions.
New Multi-Use Bridge
The Province of Ontario is providing financial assistance to the City of Thunder Bay to build a new multi-use bridge through the Ontario Municipal Cycling Infrastructure Program (OMCIP). The new bridge will cross over the McIntyre
River at Confederation College and will be located near the current Nakina Drive Bridge.
The bridge will make it safer and more comfortable for people walking and biking, as the bridge is wider and away from car and bus traffic.

McIntyre River Multi-Use Bridge - Slides from Open House
Adobe PDF, 12 Pages, 47.9 MB
McIntyre River Multi-Use Bridge - Notice of Completion
Adobe PDF, 1 page, 119 KB
Active Transportation Projects
Learn about the proposed Windsor Active Living Corridor HERE.
Map of bike lanes and multi-use trails:
Thunder Bay has over 45 kilometres of multi-use trails and over 30 kilometres of bike lanes and shared lanes.

2016 Active Transportation Map
Adobe PDF, 2 pages, 2.7 MB
want to ride year-round?
The City has developed a guide to help cyclists who chose to ride year-round called "The Thunder Bay All-Weather Cycling Guide". The Guide covers clothing, equipment, lighting, and riding techniques. It is available here:
All-Weather Cycling Guide
Adobe PDF, 18 Pages, 981 KB
You may also read the Interactive Publication - All-Weather Cycling Guide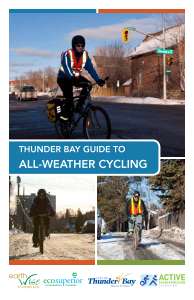 Boost your riding confidence!
Safe Cycling Thunder Bay offers cycling training for everyone! Join a group ride or take some training to make riding your bike better than ever. With 15 certified cycling instructors, Safe Cycling is Thunder Bay's premiere cycling education program.
Making Right Turns with Bike Lanes:
Are you wondering how to make right turns properly from bike lanes?
Right Turns with Bike Lanes
Adobe PDF, 2 Pages, 580 KB
Looking for general information about bike lanes?
Bike Lanes and Shared Lanes
Adobe PDF, 2 pages 460 KB
Bike Lanes / Shared Lanes Pamphlet
Adobe PDF, 2 pages, 938 KB

For more information, please visit our resources page.
Active Transportation
Address:

Victoriaville Civic Centre
111 Syndicate Ave S
Thunder Bay ON P7E 6S4

Tel:
(807) 625-2163
Fax:
(807) 625-3588
Coordinator:
Adam Krupper
Email:
akrupper@thunderbay.ca