Advertising & Partnerships
Become part of a "superior" tourism plan
We invite you to showcase your business or tourism product with the reputable and highly qualified opportunities found in our 2017 Advertising Sales Kit. The Fillable Order Form is available below.
Advertising Order Deadline is October 17, 2016.
Read the Interactive 2017 Advertising Sales Kit (click image below)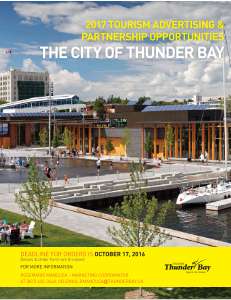 new Co-op Marketing Fund Program
Tourism Thunder Bay will assist in marketing campaigns that target priority out-of-city markets. We encourage you to submit innovative and co-operative marketing campaigns for our consideration. The objective of this new program will be to provide marketing assistance, through select paid advertising in our best-bet target markets for campaigns that facilitate overnight stays by visitors through the development and joint marketing of overnight packages. We are currently accepting applications per the following guidelines for two 2017 campaigns. Take advantage and submit your campaign for our consideration.
New Co-op Marketing Fund Program Guidelines
Adobe PDF, 4 pages, 37.8 KB
Contact Us
Rose Marie Mancusa
Marketing Co-ordinator
City of Thunder Bay Tourism Division
Tel:
(807) 625-3648
E-mail:
rmancusa@thunderbay.ca
---