The Key
Thunder Bay's Guide to Community Programs and Services.
To view and print PDF files you will need Adobe® Reader®. If you do not have the free Adobe® Reader® software, please download it from Adobe's site.
view the fall 2017 key online
Looking for a recreational, cultural or educational activity in Thunder Bay? The Key is your guide to community programs and services! The publication is distributed to Thunder Bay residences and various agencies four times a year.
Click on the image below to read the interactive publication - The Key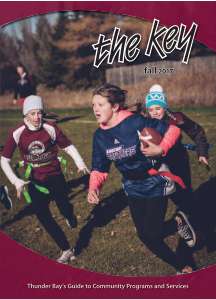 | | |
| --- | --- |
| The Key - broken down by section: | |
| Index | Adobe PDF, 1 page, 1 MB |
| Lakehead Public Schools Section | Adobe PDF, 11 pages, 8.4 MB |
| Confederation College Section | Adobe PDF, 23 pages, 5.2 MB |
| Lakehead University Section | Adobe PDF, 12 pages, 2.9 MB |
| CSDC des Aurores boréales Section | Adobe PDF, 2 pages, 628 KB |
| Thunder Bay Catholic District School Board Section | Adobe PDF, 7 pages, 1.4 MB |
| City of Thunder Bay - Community Services Section | Adobe PDF, 47 pages, 13.6 MB |
| Canada Games Complex, Churchill and Volunteer Pool Section | Adobe PDF, 27 pages, 13 MB |
| Community Groups section | Adobe PDF, 38 pages, 10.8 MB |
home delivery
The Fall 2017 Key is delivered to homes and agencies over the weekend of August 11. Rural Thunder Bay, look for your copy in Northwest Classified Plus box locations. In Nipigon and Red Rock, copies are now available at the Public Library. Additional copies can be picked up at any of the agencies listed at the bottom of this page as well as at various social, recreational and educational facilities across the city.
If you did not receive a copy of The Key, please call (807) 625-2351 and we will arrange to have one distributed to you.
advertising in the key
If your group/organization is interested in being included in the Community Groups section of an upcoming issue of The Key, please contact the Key Coordinator at 625-3388 or via email at thekey@thunderbay.ca or download an application from this site when it becomes available a month before the deadline.
The deadline for advertising in the upcoming Winter Key is October 13, 2017. Distribution for the Fall Key will be the weekend of August 11th.
Links
The Key is a unique joint advertising initiative between seven local partners. Click on the links below for more information on each group involved in the Joint Advertising Committee.
contact
For more information on The Key, contact the Key Coordinator at (807) 625-3388 or thekey@thunderbay.ca